HOCKEY CARDS FOR SALE

Home | New | Beer Promos | Books | Buttons | Cereal Premiums | Comic Books | Fast Food Promos | Jewelry | Magazines | Militaria | Miscellaneous | Movie & TV | Music | Newspaper Strips | Nonsport Cards | Numismatic | Original Artwork | Post Cards | Prints & Posters | Space | Sports | Stamps | Star Trek | Star Wars | Toys | UFOS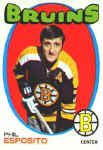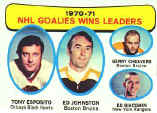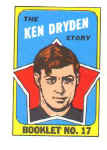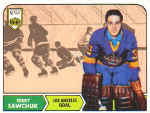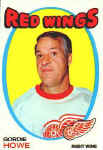 HOCKEY CARD SINGLES for sale are listed in chronological order. Please see the Condition guide for grading codes. Price is per card. Multiples listed after the card number. To purchase anything, see the How To Order page. See the Sports Memorabilia page for some nice autographed Hockey items!
---
---
2002-03 BAP LARRY ROBINSON/GERRY CHEEVERS JERSEY CARD: 2002-03 BAP Ultimate Memorabilia, 3rd Edition, Final Showdown, 1977-78 Larry Robinson (Montreal Canadiens) and Gerry Cheevers (Boston Bruins) game-worn jersey pieces, unnumbered but designated Card 19, Serial #32 of 40 made, Ultimate Number 18136 of 25,000, sealed/slabbed by Beckett, 2003 Made in Canada by In The Game, Inc. Both Larry and Gerry are honored members of the hockey hall of fame. With only 40 made, these most definitely qualify as rare. See card $48
---
UNCUT SCPGM HOCKEY CARD SHEETS are listed in chronological order.
1993 SPORTS CARD PRICE GUIDE MONTHLY UNCUT SHEETS: These 8 x 10.75 inch, slick coated, card stock sheets were inserted into 1993 issues of Sports Card Price Guide Monthly. Each sheet features 8 players from various sports on cards styled after the Topps 1973 Football design with full color, glossy fronts and green or red backs with the players card stats and card values. All sheets were cut from the issues, so they have one uneven edge, but there is still a border before the top row of cards. Sheets are Ex/M overall, but some cards have various hairline bends. These are all noted per sheet. Should you choose to cut the sheet, players named without noted bends would be NM-M. Great way to obtain unique cards of many players.
Card Sheet #1-8 (cut very close to top card edges, back O/C): Hockey - Jeremy Roenick (light scratch); Football - David Klinger, Eric Dickerson (HOF); Baseball: Marquis Grissom, Fred McGriff, Ozzie Smith (HOF), Tyler Green (slight bend); Basketball - Larry Johnson. Note: This sheet was printed with a green back and the rest are red backs. See sheet $10
Card Sheet #9-16: Hockey - Brett Hull (HOF) (very light corner tip bend), Mats Sundin (HOF), Chris Chelios (HOF), Mario Lemieux (HOF); Football - Emmitt Smith (HOF), Chris Doleman (HOF); Baseball - Ruben Sierra, John Smoltz (HOF) (very light corner tip bend). 7 out of 8 players on this sheet are Hall of Famers! See sheet $15
Card Sheet #33-40 (back O/C): Hockey - Luc Robitaille (HOF) (corner bend); Football - Barry Foster (bend), Ernest Givins (corner bend); Baseball - Juan Gonzalez, Nolan Ryan (HOF), Dwight Gooden, Eric Karros, Larry Walker (HOF). See sheet $10
Purchasing Help is on the How To Order page.